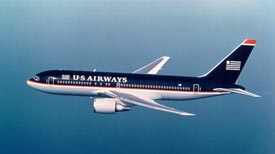 When I was a little girl, we moved from Milwaukee, Wisconsin to sunny Phoenix, Arizona. Our green Pontiac stationwagon drove us to Phoenix (well, actually my Mom drove, but whatever) and we settled in as a family.
At the time, there was a brand new start-up airline forming called America West Airlines. I remember because there was this girl in their television ads that would stand up and sing, "R-E-S-P-E-C-T", as part of their ad campaign.
It was mesmorizing. I loved her. She represented all that was good in life - singing and transporation. Looking back, it's amazing how influential those early years are.
My first plane flight was on America West, and by the course of fate, we've flown together ever since.
US Airways and America West merged in 2005, and now US Airways flies to over more than 200 destinations worldwide.
As an artist, there are a lot of things that, sometimes, just get put on the back burner; things like health & dental insurance, direct deposit, stability, and freedom of travel.
I kinda like health insurance, and believe it or not, I like going to the dentist. Even though mailbox money is preferable, I like direct deposits, too.
So prior to the US Airways merger, I became a team member of the airline. It's been a fun adventure, and I always say that my life only gotten better since I began working for the company.
This week, US Airways placed a link to my website on the internal employee website giving me an, "Atta girl!"
They've also recently had me start doing company on-hold messages, so when you call US Airways, many times it is my voice asking you to consider Philadelphia, or Barbados, for your next vacation. I don't do all of the messages, but there are quite a few with my voice on the system. (The next time your making a call to US Airways, keep an ear out for me...)
Coming from an airline of 30,000 plus employee's, it really goes to show that both as an airline, and as an employer, US Airways ROCKS!
I just wanted to say, "Thanks US Airways!"